Training Grounds


Photo montage of various training areas on the property

See our grounds photo album by clicking here

Ambertrail's commitment to the Retriever community is further defined by way of their 500 acres of natural and developed training grounds. Some of the best land and water imaginable for training, trial and hunt test purposes.









We provide these grounds to amateurs and professionals alike. Daily, weekly or seasonal rates available. These grounds have been particularly appealing to trainers from the southem United States during their hot summer months (no gators or poisonous snakes). We offer camping on the grounds (with or without electricity). For after training or just for a break come up to the lodge for a drink or just to chat about the days activities. Enjoy the fireplace and pool table. Plenty of atmosphere for any avid trainer to handle. Motels and B&Bs also located in the area.
Located in Eastern Ontario, between Ottawa, Ontario and Montreal, Quebec, we are well situated. We are within one hour and a half of three International Airports; Dorval, Ottawa, and Massena, N.Y.
Incorporate training with competing. There are a number of circuits around within a few hours of the grounds.
Included on this page are a few pictures of just some of the land and ponds offered. If you would like some more information on our grounds, please drop us a note at ducross@ambertrail.com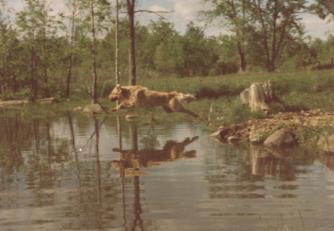 © Copyright Ambertrail Reg'd
Created and Maintained by Donna LaHaise